Subtle. Natural. Youthful. The benefits of Sculptra Aesthetic treatment in Franklin, TN
You are disheartened to see your once-youthful face succumb to the passage of time and the forces of gravity. Yet, you don't want any dramatic changes, and you certainly don't want to look like you've "had work done." You just want your own natural facial volume back.
If the above describes you, then Sculptra Aesthetic in Franklin, TN may be exactly the treatment you have been seeking. It won't overfill your face or make you look different overnight. What it will do is give your body the tools it needs to replenish collagen, naturally and beautifully. Best of all, this unique anti-aging solution is available from the team of clinicians you know and trust, at Jack & Jill Aesthetics.
Not just another filler
Sculptra is classified as a dermal filler, but it is unlike most formulas currently on the market. Typically, a dermal filler very literally "fills" the treatment area. Injections instantly add volume, which fades very gradually as the formula is absorbed. The action of Sculptra is the opposite. There is not instant improvement, but facial volume increases, rather than decreasing, in the months following treatment.
The active ingredient in Sculptra is PLLA (poly-L-lactic acid), a collagen stimulator. It was introduced as a restorative treatment, earning FDA approval in 2004 for the correction of HIV-related tissue loss. After a decade of safe and successful use in medical patients, Sculptra entered the anti-aging world, and received FDA approval for cosmetic applications in 2014. It has been changing the face of aesthetic medicine ever since.
How Sculptra gives back what time has stolen
Collagen is one of the most important components in skin, providing structure, volume, and resilience. It forms a strong network of fibers, but it does breakdown over time.  Meanwhile, aging skin doesn't produce as much new collagen. This is one of the most significant causes of volume loss in the skin and other areas.
[call]
Sculptra increases the collagen production rate in the treatment area, helping recreate the tissue structure and volume of youth. This occurs gradually, over a period of approximately three to four months. The results can last up to 24 months, or possibly more. The actual longevity of any filler will differ from one patient to another.
What you need to know about the Sculptra injection procedure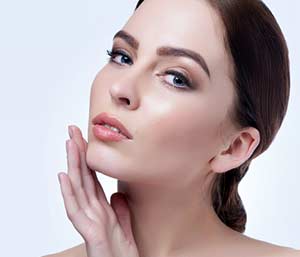 Best candidates – Sculptra alone is ideal for patients who don't want sudden or dramatic changes. It can turn back the clock in a subtle and gradual way. Additionally, it may be used in conjunction with other fillers or adjunct procedures, in patients who need to rebuild collagen.
Scheduling – Every patient is different. While some achieve desired results with a single session, most people will need two or three. The appointments are usually scheduled a few weeks apart.
Treatment areas – Sculptra is FDA-approved for cosmetically treating facial volume deficiencies, such as nasolabial folds and other deep wrinkles. It has also been used "off label" with great success in other areas of the face and body. In addition to reducing wrinkles, it is also used for enhancing contours and adding definition.
Safety – Sculptra is FDA-approved and considered safe for most adults. It does not contain animal-sourced ingredients, and allergy testing is not required. However, it is not recommended for individuals with known allergies to any of the ingredients. This will be discussed during your consultation.
Side effects – In the vast majority of patients, side effects are mild and resolve very quickly. These may include inflammation, redness, tenderness, or itching at the injection site.
Downtime – This is a non-issue with Sculptra cosmetic. You can have injections and immediately return to work or resume any other normal daily activities.
Results timeline – Immediately after injections, there may be a little swelling, which quickly subsides. It will take a few weeks for volumization to begin, because collagen grows gradually. Full results should develop within a few months of the final treatment and may last as long as two years.
Wouldn't it feel great to see your wrinkles fading (rather than deepening)? Let the team of anti-aging professionals at Jack & Jill Aesthetics re-introduce you to your younger self. Just give us a call and schedule a consultation to learn about your options.