What you should know when selecting an aesthetic skin care clinic in Franklin, TN
We all want to retain our youth and improve our appearances. Yet, we give little thought to how we go about it. You might visit a hair stylist or beauty salon on a whim. All too often, people take the same offhand approach when choosing a med spa in Franklin, TN. However, aesthetic enhancements are very often more than just beauty treatments. Therapies such as chemical peeling, laser rejuvenation, or filler injections are medical procedures. For your health, safety, and, of course, appearance, it is important that you choose your clinic carefully.
Types of aesthetic practices
The first thing you need to determine is what type of aesthetic care you need. Spas are noted for pampering treatments and a soothing experience, but they might not have any qualified medical professionals on staff. Some offer only "lightweight" treatments, which are essentially mild products similar to what you would use at home. Others offer a limited variety of anti-aging procedures, but it is important for the patient to verify the credentials of the provider.
At the other end of the spectrum, a classic dermatology or plastic surgery center is very much a medical facility. It is operated by credentialed doctors, and likely to offer a much broader scope of treatment options. However, the atmosphere and patient experience in a typical clinical facility is rarely described as pleasant. Additionally, these types of practices might not offer indulgences such as a luxurious facials.
Jack & Jill Aesthetics is the go-to place for those who want the best of both worlds. In terms of clinical standards and safety protocols, we are very much a medical practice. Our medical director, Dr. Nadja Colon, is a Board-certified surgeon who completed a fellowship in plastic surgery. However, the atmosphere and patient experience could be likened to that of a five-star resort. Our services range from advanced cosmetic surgery to soothing facials to skin cancer removal.
[call]
Evaluating the quality of a provider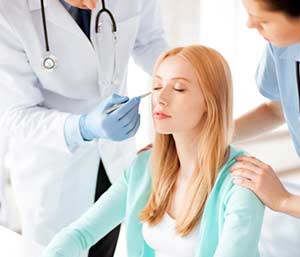 No matter how good a medicine, device, or technique may be, the quality of treatment ultimately comes down to the skill of the person administering it. Here are five essential things to find out before trusting your skin to any professional:
Are they properly licensed or certified to perform a given procedure? We've all heard about the disfiguring or even life-threatening results of "cheap" procedures such as cosmetic surgery performed by unlicensed individuals. The importance of verifying credentials cannot be overstated.
Do they have aesthetic-specific training and experience? Licensure is important, but it isn't everything. For example, in the state of Tennessee, any Registered Nurse can administer Botox under physician supervision. Yet, the procedure requires special knowledge of facial aesthetics, fine muscle movement, and Botox mechanism of action. Someone with a background exclusively in emergency medicine, or who is fresh out of nursing school, is unlikely to give you the result you want. There is an endless array of optional educational programs focusing on aesthetics, as well as specific products and devices.
What do their existing patients have to say?  No one is more qualified to judge an aesthetic provider than the person experiencing the treatment and viewing the results in a mirror. In addition to asking friends and family for recommendations, look for social media mentions and check reviews for any practice you are considering.
Do they offer the latest procedures? If you like to get the most out of your laptop or smartphone, then you know how difficult it can be to keep up with the newest technology. Aesthetic devices and products advance at a similar speed, and practices that don't keep up might not be able to offer the best options currently available. For example, we recently added J-Plasty technology for plasma-based tissue tightening, which can achieve improvement not possible with laser or radio-frequency devices.
How accessible is this information? If this information is not readily available, and if the staff is hesitant to answer your questions, you might wonder why.  After all, an ethical provider wants to give you full information, up front. A high-quality practice is usually proud to showcase their facility, providers, and satisfied patients. For example, CoolSprings Laser, Aesthetic & Skin Care Center provides abundant information about our procedures, the qualifications of our clinicians, and much more – right here on our website. Furthermore, we are more than happy to answer your question when you call or visit us.
There is one final, very important test of your new provider. That is to arrange a consultation and see how you are treated. When you visit CoolSprings Laser, Aesthetic & Skin Care Center, you can prepare to be pleasantly surprised by the welcoming atmosphere, courteous staff, and exceptional patient experience. Find out for yourself – schedule an appointment.