How Xeomin Injections in Franklin, TN are – and aren't – different from Botox or Dysport
Have you noticed that people in Franklin, TN are looking younger every day? No, it's not some strange time warp, it is the result of amazing aesthetic treatments. Jack & Jill Aesthetics offers a full range of anti-aging solutions, including ever-popular dermal filler and wrinkle relaxer injections. The Xeomin name may be a little less familiar than Botox and Dysport, but it is an equally excellent treatment. Patients, especially those unfamiliar with the brand, often ask just what Xeomin is and what sets it apart from the others.
What is Xeomin?
Formulated with incobotulinumtoxinA, Xeomin is an FDA-approved injectable medication. It is classified as a neuromodulator, which means that it works by reducing overactive nerve impulses. Since nerves control many processes within the body, these types of formulas have many different applications, both medical and aesthetic. In anti-aging treatment, they are most frequently used to relax the tiny facial muscles that cause fine lines, especially around the eyes.
Xeomin injections may be used cosmetically to improve:
Crow's feet (lines at the corners of the eyes)
Glabellar lines, also known as frown lines or 11s (vertical lines between the eyes)
Worry lines (horizontal lines on the forehead)
Angular facial contours, especially around the jaw, associated with "bulky" muscles
Any other cosmetic concerns associated with hyper-contracted muscles
[call]
About the procedure
Injections of Xeomin are particularly comfortable for a couple of reasons. First, our clinicians use precision techniques to minimize pain and subsequent bruising in any procedure. Second, the actual volume of product injected is quite small, and it is delivered with an ultra-fine needle. The entire procedure is completed in a matter of minutes. Some patients have Xeomin injections during their lunch breaks.
You might have a little swelling or bruising around the injection site, but it should resolve within a few days or sooner. In the meantime, any visible marks are easily covered with makeup. Don't be surprised if there is no change in wrinkles for a few days. It takes about a three to seven days to see improvement, and sometimes up to two weeks for full results to develop.
In most patients Xeomin lasts from four to six months. If you wish to extend results, you can arrange a follow-up appointment at that time.
Do we really need another wrinkle relaxer?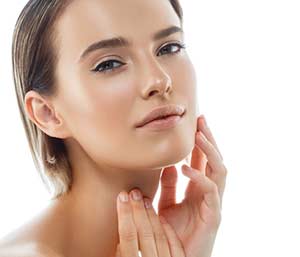 If you think that the above information sounds a lot like other products, you are right. Xeomin, Dysport, and Botox are very similar formulas, with a nearly identical active ingredient. Botox was the first to earn FDA approval, with Dysport following several years later. Xeomin has been used around the world since 2005, and it was FDA-approved and introduced to the United States market in 2010. It has an excellent record of safety and efficacy, with clinical outcomes comparable to Botox and Dysport.
Although Xeomin is a wonderful product with a proven record of success, it is not superior to the previously existing options. Therefore, some people wonder if it is really necessary. Our answer is absolutely, yes. In fact, at CoolSprings Laser, Aesthetic & Skin Care Center, we use a wide variety of products, techniques, and technologies. Many – like Botox, Dysport, and Xeomin – are very, very similar. Why then, do we need such a variety?
Think of a well-equipped art studio. It will have a broad range of brushes and full  palette of available colors, even though some are very similar. That is because the master artist knows the importance of subtle differences and will select the ideal materials for each painting. Similarly, the talented aesthetic clinician is also an artist, who can accomplish the most beautiful work with the greatest selection of tools on hand.
Which product is best for you?
We can't answer that question here, because the best solution is different for each person. If you want to get rid of crow's feet, or correct any other cosmetic concerns, please visit our office for a consultation. One of our skilled, experienced clinicians will perform a comprehensive aesthetic evaluation and have an extensive discussion about your goals and expectations. We will then make recommendations and discuss options, based on your specific needs. Just schedule an appointment to get started.