What double chin removal treatment in Franklin, TN is right for you?
We all have certain areas of our bodies that are less than ideal. Some can be improved with diet and exercise. Some can be easily hidden beneath clothing. The double chin is not in either category. It might get a little larger or smaller with weight fluctuations, but it doesn't disappear – and no one wants to wear a turtleneck with a fluffy scarf on a sweltering July day in Franklin, TN. That is why we offer a variety of effective double chin removal treatment options here at Jack & Jill Aesthetics.
The challenges of treating a double chin
There is very little change in the number or distribution of fat cells once a person reaches adulthood. What does change is the size of those cells. They swell to hold more fat if you gain weight or shrink when the pounds drop. Even people with low overall body fat struggle with rolls and pooches, because a disproportionate amount of it is concentrated in a few areas.
The area below the chin, known as the submental region, is defined by bone and muscle. Ideally, soft tissue does not protrude significantly. When there is a large pocket of submental fat, it creates a quite noticeable bulge, commonly referred to as a double chin.
Although small, this particular fat pocket is especially troublesome to many patients. It is highly visible and has a dramatic impact on your facial appearance. In this era of snaps and selfies, we all want to be camera ready from any angle. The same factors also create challenges in treatment, because precision is essential to achieve natural looking results.
[call]
Liposuction has long been considered the gold standard treatment for fat removal, especially in the chin area. It is a minimally invasive surgery and takes just one appointment. We use the tumescent liposuction technique, which is particularly gentle and precise. Liposuction is considered a minimally invasive surgery, it only requires tiny incisions. Fat is removed using a cannula (very small tube). The results of liposuction are long-lasting, because fat cells are completely removed from the body.
Advantages: Only one treatment needed, removes fat cells, tried and true procedure with proven results
Disadvantages: Although minimally invasive, liposuction is a surgery, and therefore, is not appropriate for everyone
Neck lift
Sometimes, the problem is not just fat, but also excess skin. Patients with severe wrinkling in the neck area, or "turkey wattle" folds of skin may opt for a neck lift procedure. It is similar to a facelift, but it focuses on the neck and chin area. Excess skin and fat are surgically removed, and weakened muscles are restored.
Advantages: Only one treatment needed, removes excess skin in addition to fat, restores the chin and neck area
 Disadvantages: As an invasive surgery, a neck lift will require from several days to a couple of weeks downtime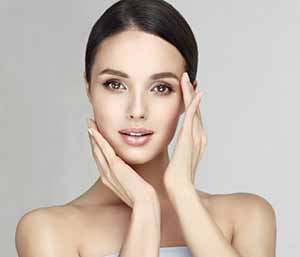 Until recently, there was not a nonsurgical procedure developed specifically for double chin treatment. That changed in 2015, when the FDA approved Kybella, a revolutionary new medication that destroys fat without surgery. The product is injected directly into the fat pad below the chin in strategic locations. It kills fat cells, which are metabolized and eliminated by your body over a period of several weeks. Most patients need a series of between two and six treatment sessions, scheduled several weeks apart. There is little to no downtime after each appointment, and full results develop within about 12 weeks of the final treatment.
Advantages: No surgery, minimal downtime, our experienced injectors use precise techniques to achieve beautiful, natural looking results
Disadvantages: Requires multiple appointments, cannot remove excess skin or address severe laxity
CoolSculpting is a nonsurgical fat reduction technology that has been used safely and effectively for many years, but it was designed for larger areas of the body. One of the most recent advances in this technology was the addition of a small, versatile, handheld applicator. In 2017 it gained FDA approval for use in the submental region, giving patients a new alternative to double chin surgery.
Advantages: Noninvasive treatment, no surgery, no injections, little if any downtime
Disadvantages: Requires multiple appointments, the treatment area is limited by the size and shape of the applicator making it impractical for micro-contouring
The best way to explore your options is a personal consultation with one of our experienced clinicians. After a comprehensive aesthetic evaluation, and a discussion of your goals, we will explain the most appropriate solution. Give us a call at [phone] to schedule.