Waging a war on aging? In Franklin, TN, neck lift surgery could be your best ally
Maybe you're one of those fortunate people whose face just seems ageless; for you, 50 really does look like 30. Or maybe you've had a little help with your "youthful glow." After all, cosmetic procedures are no longer mysterious indulgences available only to the rich and famous. Both men and women are fighting fine lines and wrinkles with the latest injections and laser treatments…and doing so at a younger age than ever before.
If you're waging the war on aging in Franklin, TN, neck lift surgery at Jack & Jill Aesthetics could be your secret weapon. The neck is often the first area of the body to show signs of aging. Even if you're fresh-faced from your smile up, a double chin, sagging skin along your jaw, a "turkey wattle," or creasing and banding in your neck can make you look significantly older than you really are.
There's no need to resort to the "turtleneck tactic"
Does your current anti-aging battle plan consist of the "turtleneck cover-up?" If so, it could be time to talk about having a neck lift operation with a cosmetic surgeon. Sometimes known as a lower face-lift, a neck lift is one of the safest, most reliable plastic surgery procedures you can undergo. The neck, face, and forehead each require a different "lift" procedure. Neck lifts often produce the most dramatic results, creating a smoother, slimmer profile, balancing the entire face, and restoring a rested look.
A neck lift is actually a set of procedures. Depending on your needs, you may have one or all of them:
Removal of fat – This is done to treat a double or triple chin. Often, the fat is removed by liposuction. A small incision is made in an inconspicuous area of the chin and a wand with an open end is inserted into the incision to break up fat and then it is removed using suction.
Removal of excess skin – Small incisions are made in the hairline usually around or behind the ears and under the chin. Excess skin, and sometimes fat, is removed, and the remaining skin is re-draped and pulled tight.
Tightening of neck muscles – Small incisions are made in the hairline around or behind the ears. There is deep lifting and resuspending of the underlying muscles and skin to correct the effects of aging and gravity that contribute to the appearance of vertical bands around the neck.
[call]
Advances in surgical techniques over the past 10 years make it possible for neck lifts to be performed with a minimal number of small incisions in strategic locations, which means fewer, less noticeable scars.
Neck lifts are usually performed on an outpatient basis and routinely take two to three hours to complete. Incisions may be closed with sutures or skin glue (once healed, incision scars are often hidden by the hairline and the natural shape of the ears). It's normal to experience bruising and swelling, as well as a "tight" feeling in the neck. Most patients can return to their normal routine within two to three weeks, although full healing may take three to six months.
While neck lift surgery is a major operation not to be taken lightly, the benefits are significant:
Produces natural-looking results
Provides a thinner, younger appearance
Boosts self-confidence
Is a safe procedure with few risks
Addresses the loose, sagging skin that can result after dramatic weight loss
Results last for five to ten years
Recovery is quick, usually one to three weeks
Can correct several appearance issues with one surgery
Can be combined with other lift or cosmetic procedures
Incision placement results in unnoticeable scarring
Are you a candidate for neck lift surgery?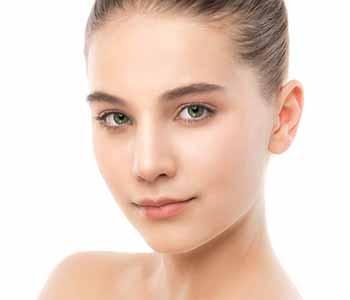 Neck lifts are most often performed on those aged 40 to 60, although some as young as 30 may have them. The best candidates are those whose general health is good and who have enough elasticity in their skin to withstand the stretching of the procedure. They should be able to miss at least a week of normal activity. And they should have realistic expectations; a neck lift cannot completely alter one's appearance or stop the aging process.
To determine if a neck lift is right for you, schedule a consultation with an experienced cosmetic surgeon like Dr. Nadja Colon at Jack & Jill Aesthetics. It is important to choose a surgeon who has performed a number of neck lift procedures and who can combine medical skill, an individualized plan for your makeover, and an artistic eye to help you recapture a youthful look. Call Jack & Jill Aesthetics today at [phone] and enlist Dr. Colon's expertise in your fight against aging.
Back to Lower Face and Neck Lift Page