Why Juvéderm is one of the most popular treatments for facial wrinkles in in Franklin, TN
CoolSprings Laser, Aesthetic & Skin Care Center in Franklin, TN is proud to offer our patients a wide variety of antiaging and cosmetic enhancement solutions. One of the most requested treatments is a nonsurgical solution for facial wrinkles, and Juvéderm provides a beautiful answer.
Juvéderm is a hyaluronic acid filler, produced by the same company that makes Botox. The FDA first approved it more than a decade ago, and thousands of patients around the world have been treated with Juvéderm. It has a sterling reputation for both safety and patient satisfaction.
The science behind the beauty
Hyaluronic acid is an ideal dermal filler product for several reasons. It is naturally present in skin and other tissues. Therefore, it is easily accepted by the body, with virtually no chance of adverse reactions. It is temporary, but the results can be maintained with occasional touch-up treatments – or, if you change your mind it can be dissolved with a simple hyaluronidase injection.
Juvéderm has refined and enhanced the benefits of hyaluronic acid, creating a collection of premier dermal fillers. Each product in the line is designed and optimized for a specific area of the face, enabling truly customized treatment.
One of the most distinct features of the Juvéderm collection is the advanced crosslinking technology. While many hyaluronic acid fillers are granular in texture, Juvéderm formulas are velvety smooth and crystal clear. When injected correctly, they create soft, natural looking contours. Because the formulas have a high concentration of hyaluronic acid, treatment results are reliable and long-lasting. Juvéderm's fillers also contain a very small amount of lidocaine anesthetic for comfort.
[call]
Turning back the clock with Juvéderm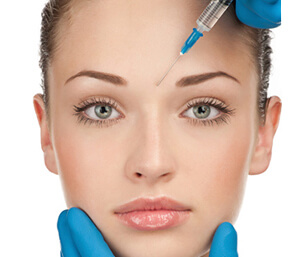 As time passes, skin gradually loses volume and becomes lax. The face begins to look thinner, and wrinkles develop. Dermal filler injections are strategically placed to restore natural fullness. They lift sagging tissue, smooth out wrinkles, and recreate the smooth contours of youth.
Juvéderm may be used to treat:
Lines on the forehead (worry lines)
Some types of scars, including those caused by severe acne
Vertical lines around the mouth (smoker's lines)
Lack of definition along lip borders
Deep lines around the corners of your mouth (marionette lines)
Lines between the brows (frown lines)
Nasolabial folds (smile lines), which extend from the corners of the mouth to the nose
Fine lines at the corners of the eyes (crow's feet)
Sunken or hollow cheeks
Lip augmentation
Big lips are a big trend, and not just among celebrities. Everyone wants that perfect pout, and Juvéderm is one of the best ways to get it. Tissue in the mouth area is thin and delicate, requiring precision treatment. Thick or granular fillers can cause lumps or unnatural looking contours.
The Juvéderm lip collection includes two exceptional fillers, designed to achieve the look you love:
Ultra XC is used for adding lip volume and plumpness. It is appropriate for treating lips that have become thinner over time, as well as adding volume for patients seeking fuller lips.
VOLBELLA® XC is designed for smoothing away vertical lines around the lips, as well as subtle volumization.
Both formulas are designed to be long-lasting. In patient surveys, conducted one-year post treatment, 75 to 80 percent of patients were satisfied with Juvéderm lip fillers.
The Juvéderm patient experience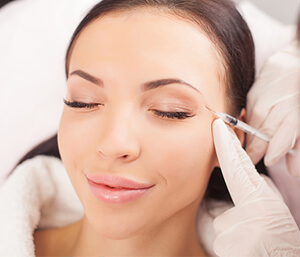 Consultation:
We start with an aesthetic evaluation, along with a conversation about your goals, medical history, and other relevant information. Be sure to voice any concerns you have and ask questions freely. Our standard of service includes individual attention and highly customized solutions.
Treatment:
The actual procedure is remarkably fast and comfortable, with immediate results. It may take from a few minutes to about an hour, depending on the treatment areas. You may feel some discomfort, but Juvéderm numbs as it is injected, due to the lidocaine in the formulas. Patients generally find it highly tolerable.
Recovery:
When the procedure is over, you can go on with your day, and go on with your life. There is no downtime needed, and typically very few side effects. You might notice a bit of bruising or swelling, which should subside in about a week.
If Juvéderm sounds like the solution you've been seeking, call us at [phone] to schedule an appointment.