Patients in Franklin, TN ask, "Does laser hair removal hurt?"
Franklin, TN area patients who are ready to address unwanted hair on the face or body can find a solution outside of the traditional methods. In the past, those who wanted to remove hair considered:
Shaving
Waxing
Depilatory creams
Tweezing
Unfortunately, these solutions must be performed regularly, some daily, if patients want to enjoy long-term results. Instead, it is beneficial for patients to consider professional solutions such as laser hair removal to provide permanent hair reduction.
Laser hair removal explained
With today's technology, many medical professionals in the Franklin, TN area have found lasers to be incredibly helpful in a variety of skin care situations. Lasers can help remodel the skin's foundation, stimulate the production of collagen and elastin, and permanently incapacitate hair follicles to keep them from producing hair. This is how patients enjoy smoother, hair-free skin. With laser hair removal, the laser device targets the actively growing hair follicles and keeps them from producing hair in the future. The results are achieved by treatments that are spaced several weeks apart. The laser can only target the hair that is actively growing, and hair grows in cycles. By scheduling several sessions over time, the lasers can target the active growth phase and provide full hair removal. One treatment will not provide full removal, but it can be advantageous for patients who are interested in a reduction in the amount of hair in a specific area.
[call]
Who is a candidate for laser hair removal?
Lasers have come a long way over the years. When laser hair removal was first introduced, it was unavailable to patients of certain hair and skin colors. Now, thanks to advances, patients of all skin and hair colors can now enjoy laser hair removal treatment from the team at Jack & Jill Aesthetics. Anyone who has hair on the body that they want to reduce or permanently remove can come speak to our team about the possibility of undergoing laser hair removal.
Does laser hair removal hurt?
The procedure itself is not painless. The laser light pulses target the hair in the treatment area. When it does this, it can produce a snapping sensation. This is well-tolerated by our patients who are having their procedure done. However, we can provide patients with topical anesthetics prior to their treatment to reduce the snapping sensation and enjoy comfort throughout.
Is the hair removal long-term?
Yes! Once the hair follicle has been treated during the active growth phase, it will no longer produce hair.
How much does laser hair removal cost?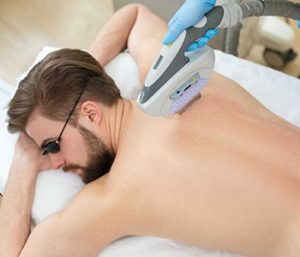 The actual cost of laser hair removal is difficult to determine due to several factors. First, the size of the treatment area needs to be defined to give patients a proper quote for each session. Second, the number of treatment sessions required to achieve the desired results will vary. Some patients want to treat certain areas of the body just to reduce the amount of hair, while others desire a completely hair-free outcome. Additionally, the body's response to treatment will be different from patient to patient. When patients schedule their consultation appointment with our team of professionals, they can ask questions as to how much they can expect to spend for the service, based on their specific needs. Our team works out a treatment plan together with the patient to get them on the road to hair-free skin!
Schedule a visit to discuss the advantages of laser hair removal with a professional
At Jack & Jill Aesthetics, we are committed to providing solutions for patients who are unhappy with unwanted hair. There are so many benefits to laser hair removal, and it can be a great option for patients who are ready to permanently reduce or eliminate hair on specific areas of the body. If you are interested in discussing this with our team, contact us today by calling [phone] to schedule an appointment.
Back to Lasers Page