Learn about the types of cosmetic fillers available for the face in Franklin, TN
Franklin, TN patients who want to look their best are often worried when the typical signs of aging appear on the face. This includes fine lines and wrinkles that are a result of increased skin laxity with collagen loss. The professionals at Jack & Jill Aesthetics are ready to assist patients in achieving minimally-invasive results with cosmetic fillers for the face.
What are cosmetic fillers?
Cosmetic fillers are hyaluronic acid gels that are injected directly into fine lines and wrinkles to attract water and immediately add volume that causes these imperfections to be less noticeable. This method is fast, effective, and allows patients to enjoy the results for many months without the need for plastic surgery.
[call]
What types of cosmetic fillers are available?
At Jack & Jill Aesthetics, we offer two types of cosmetic fillers:
Both are proven to provide amazing results for patients who are ready to address fine lines and wrinkles on the facial area. They are both safe to use in conjunction with other injectables such as Botox to achieve desired results. Patients find that they achieve immediate improvement that can last several months before reinjection is needed.
How much do cosmetic fillers cost?
The cost of fillers is based on many factors. This includes the type of filler, the treatment area, the amount of filler needed, and how often the fillers need to be injected. Taking all these factors into consideration is the only way to determine the actual cost of treatment. We encourage patients to book a consultation and initial evaluation with our team to get an accurate quote regarding the services they desire.
Who is a candidate for dermal fillers?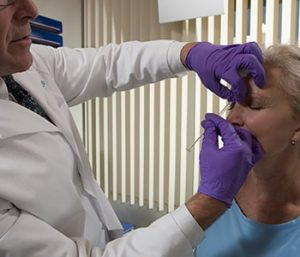 Most patients who are dealing with unwanted fine lines and wrinkles on the facial area are considered appropriate candidates for dermal fillers. An evaluation at Jack & Jill Aesthetics is needed to evaluate the patient and discuss his or her medical history to see if there is any reason why the patient may not qualify for these injections. Additionally, patients are welcome to ask about a combination of treatments for optimum results.
What is the process of receiving cosmetic fillers for the face?
First, patients consult with their doctor to determine if they are a candidate for treatment. Once this has been determined, the clinician will discuss the type of cosmetic filler that will be used for achieving the results desired. Patients relax in the treatment chair as one of our trained and skilled professionals provides the injections into the area of concern. Patients leave the treatment chair with post-care instructions and will enjoy their new look for many months to come. Once the fine lines and wrinkles begin to return, it may be time for reinjection of dermal fillers to maintain the results over time and slow the signs of aging over the years.
Are there any side effects to cosmetic fillers?
Most patients who have injections performed at our practice will notice some redness and tenderness at the injection site, this is perfectly normal and well-tolerated. Some patients may notice itching, but this often resolves within a day or two. Patients may be given additional instructions, depending on the area in which the injection was administered. If patients notice any signs of concerns, they are urged to contact our practice for a follow-up appointment to assess. However, most of our patients go through the entire process without any issues and love their more youthful look! Patients are welcome to ask questions about side effects or concerns during their consultation visit.
Schedule a visit today with our staff
The team of Jack & Jill Aesthetics is dedicated to helping patients in and around the Franklin, TN area achieve a more youthful appearance without the need for plastic surgery. If you want to work with a group of professionals who are ready to assist with cosmetic fillers for the facial area, contact our staff today at [phone] and visit us in Suite D-2 at 330 Mayfield Drive. New patients are welcome to schedule an appointment and learn more about the cosmetic solutions available in our state-of-the-art practice.