What is the cost of Botox injections from Franklin, TN area professionals?
The signs of aging can be troublesome for many patients, especially if they show up earlier than expected. Everyone wants to maintain their youth, but how?
While plastic surgery is always a possibility, many patients are not ready for that kind of invasive solution. Instead, they may want a way to address the subtle fine lines and wrinkles that have developed in a different manner. They may want a solution that is more affordable and provides long-term results without the commitment to surgical intervention. This is when patients in the Franklin, TN area are encouraged to speak to the team of CoolSprings Laser Aesthetic Skincare Center about the benefits of Botox injections.
What is Botox?
We've all heard of Botox. The brand name is often associated with the Hollywood elite. However, it is not only for those who have a lot of disposable income. Nearly anyone can enjoy the advantages of Botox injections.
Botox is a neuromodulator. Unlike dermal fillers, which are gels injected into the fine line and wrinkles to add volume and reduce their appearance, a neuromodulator works differently. This injectable is formulated with botulinum toxin type A, which is injected into the muscles. The muscles of the face can contribute to the development of wrinkles and folds, and then add to the aging appearance. By targeting the muscles with a neuromodulator, they will relax, and smooth the skin after just a few days. The results of Botox injections are often seen for many months before reinjection is necessary to maintain a more youthful look.
[call]
Who is a candidate for Botox?
Any patient who has developed fine lines and wrinkles due to muscle contractions and wants to address them in a non-surgical way is encouraged to ask about Botox injections. During an initial consultation appointment, patients can learn about this and other injectable options that are used to turn back the hands of time for both male and female patients.
What can Botox treat?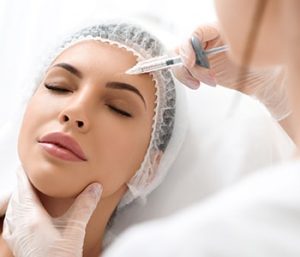 Since Botox focuses on the muscles, the areas of treatment often involve the upper third of the face. Treatment areas best suited for Botox include:
Crow's feet
Glabellar lines
Forehead folds
When patients have their initial assessment, they can also discuss the benefits of using Botox in conjunction with other fillers such as hyaluronic acid fillers or poly-L lactic acid injectables. Hyaluronic acid fillers are gels that are used to add volume to the wrinkles and folds on the face, and poly-L lactic acid injectables are used to create volume in areas where volume loss has occurred by stimulating the production of collagen and elastin. When patients have several areas of the face that they would like to improve at once, they can ask our team about having a "liquid face lift" and combining several types of injectable treatments to get stunning, natural-looking results without surgery.
What is the cost of Botox injections?
The cost of Botox injections varies greatly for a variety of reasons. First, some patients need more Botox to achieve results than others. It all depends on how the body responds to the neuromodulator and the amount injected. Our team will be conservative in injections, as you can add more Botox, but you cannot remove it. This ensures patients have natural-looking results, and do not experience any of the side effects that can occur with over-injection. Botox is priced per vial instead of per injection, so an accurate quote can only be obtained with an appointment.
Book an appointment with our staff to discuss Botox and other cosmetic injectables available from our staff!
Call CoolSprings Laser Aesthetic Skincare Center today to connect with our team of professionals and ask about this and many other cosmetic solutions available at our state-of-the-art facility. We can be reached by phone for an appointment with our front office staff at [phone], and patients can visit our team at our practice located in Suite D-2 at 330 Mayfield Drive. We welcome new patients into our office for comprehensive skin care solutions.